How Cool is Scott Pruett?
Story by Dan Fredman
How cool is Scott Pruett?
Well, if you happened to attend the Pebble Beach Wine Classic last year in Carmel and ran across him calmly pouring wine behind the Pruett Vineyards table, you'd have learned that he'd had quite an eventful day. Earlier, he and Memo Rojas had taken first place in the Daytona Prototype class of the Grand Am Rolex Series at Barber Motorsports Park in Birmingham, Alabama. Upon completion of the race, Pruett made a mad dash to the airport, where he caught a plane across the country to pour Syrah at the premier wine event in the country. Who says you can't have it all?
It'd be a safe bet that Scott Pruett is the fastest winemaker in the world. When he's not racing or working as a consultant for Lexus, Scott is back at home in his vineyard in Auburn, California, making wine. This shift from velocity to viticulture is not without precedent: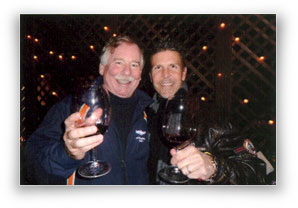 Speedsters Kevin Buckler (of The Racer's Group), Richard Childress, Randy Lewis, Mario Andretti, and even Jeff Gordon have their own labels, but it's rare to find any driver as hands-on as Scott Pruett.
"Racing is the opposite end of spectrum from wine," says Pruett. "In racing you can make things happen in a good or bad way, forcing things when necessary to try to change the outcome of a race instantaneously. With wine, my biggest challenge has been slowing down. If you're not quite sure what you're doing, give it a week or two and the answer will become obvious. When the grapes are ready for harvest, they tell you; when the wine's ready to be bottled, it tells you. In racing, I'm thinking second-to-second, minute-to-minute, but in wine, I'm thinking season-to-season or year-to-year."
Pruett's mentor has been Brian Mox, who makes wine for Randy Lewis in Napa; in the last few years winemaker Fred Schrader (of Schrader Cellars) joined the advisory team as well. They help with vineyard sources and in making sure that everything goes smoothly, but ultimately the decision making and heavy lifting falls to Pruett.
"It's been incredible working with Brian," says Pruett, "and the last three years with Fred have been great. It's like driving for Ganassi or Penske. Those teams are the best and they make it possible for me to be the best. At Pruett, I am the winemaker, I do bottling, labeling, corking, everything. I absolutely love the raw purity in that level of involvement. In racing, our goal is to win, to break records, and achieve more than anybody else can. I have that same feeling about winemaking, that challenge of making the best wine possible from the finest grapes I can obtain. I'm not in the business just to say "hey, I make wine".
The wines Scott makes are impressive now but improve with each release as he gains more experience as a winemaker. I tasted two of his current releases and was impressed.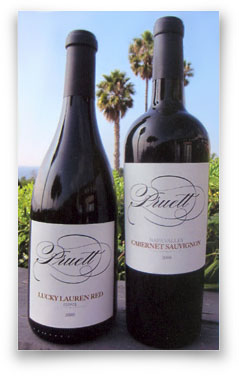 The 2009 Pruett Vineyard Lucky Lauren Cuvée is an estate-grown blend of 75% Syrah and 25% Cabernet Sauvignon. It's got a deep dark, brooding purple color that hints at the wine's creamy texture. Aromatically, it's all about the berries, leading to a long, full-bodied finish. The blend of Syrah and Cabernet is something you usually see in Australia (shades of the Aussie V-8 Supercars) but Pruett planted his vineyard specifically to this blend. The Cabernet brings backbone, edge, and refinement to the blend, leaving the Syrah to provide the black pepper and cleavage. Smooth, velvety tannins on the finish allow this wine to stand alone or serve with a bacon cheeseburger (with grilled onions, of course). In the Lucky Lauren Cuvée fruit, structure, and acidity balance each other, resulting in a terrific bottle of wine.
There's a sense of a calm authority to the 2008 Pruett Vineyard Cabernet Sauvignon. Even though it's made in an easy-to-drink style, there's underlying complexity popping up after the bottle has been open for 30 minutes. Instead of using fruit from his own vineyard, Pruett sourced Cabernet from the Darms Lane Vineyard in Napa Valley. The wine is zaftig and elegant, with dark fruit flavors supporting the lush mouth feel. This is a fun bottle to drink now – no need to stash it in the cellar.
The Pruett wines are produced in limited quantities and are unlikely to be found at your local wine shop. Fortunately, you can order directly from Scott & Judy Pruett at www.pruettvineyard.com, where you can also join the mailing list and be the first to know about new releases. Adds Scott: "Lexus commissioned a special limited-production bottling for the LFA. I made 174 bottles, all numbered and signed. Lexus says that you get a free bottle when you buy their supercar, but I prefer to think of it as, "you buy a bottle and we throw in the car for free!" At $375,000 per bottle, it's the most expensive wine in the world, but it comes in a very nice package.